2019
07.19
A selection of music reviews from various publications for which I've written through the years. This post is subject to being updated.
DEAFHEAVEN
Ordinary Corrupt Human Love
Metal can be very fickle. While these days it comprises an extensive list of subgenres – there's everything from a cappella folk metal to electronic grindcore – it isn't always a scene that readily welcomes change and innovation. Acts like Avenged Sevenfold and Bring Me the Horizon still struggle for acceptance, despite having grown to the status of arena headliners. In more recent years, particularly left-field contenders to the throne such as BabyMetal have split opinion with their bizarrely compelling hybrid of J-pop and thrash, while even the more underground scenes like black metal have seen a controversial shake-up at the hands of acts like Deafheaven.

Hailing from the grim, frostbitten peaks of… er, San Francisco, the band have made waves since their formation eight years ago with their reimagining of metal's most infamous subgenre. Forgoing corpse paint, pagan themes and deconsecratory arson for a more personable approach, they've become synonymous with the term blackgaze – a portmanteau of 'black metal' and 'shoegaze' that just rolls off the tongue, first coined by Neige of the similarly-styled Alcest. While they might not have invented it, Deafheaven have come to be seen as the main flag-bearers for blackgaze, and in doing so have seemingly received as much abhorrence as they have admiration. While their second album Sunbather garnered almost universal acclaim upon its release in 2013, they were simultaneously disparaged by defensive black metal purists who didn't take kindly to the band's transcendence of the genre's usual trappings. Or their haircuts. Continue reading on Drowned In Sound…
BON JOVI
This House Is Not For Sale
They're an enduring thing, Bon Jovi. A recent Internet meme saw the immortal chorus of their 1986 bubble-gum metal classic 'Livin' On A Prayer' coupled with images that would rhyme with its "Whoa, we're halfway there" refrain, the best of which were Harambe on a chair, wizard at a fair and Weston-super-Mare. Even 30 years after their commercial peak – and in the phone-fondling hands of a tech-savvy, millennial generation to whom they don't truly belong – Bon Jovi still permeate popular culture.

Originating from New Jersey, the band stormed the charts through the Eighties, riding the wave of glam metal's mainstream dominance, a short-lived era brought to an end by the arrival of grunge at the start of the new decade. However, as many of their poodle-haired peers went the way of the dinosaur, Bon Jovi proved themselves a more chameleonic act, successfully pulling off an aesthetical and musical shift that saw them weather the cooler, more reserved Nineties, albeit with the odd perennially radio-friendly ballad thrown in to keep sales ticking over. The Noughties saw them break into another sonic territory, garnering chart positions, awards and acclaim for country-oriented efforts.

Now we come to the Bon Jovi of 2016, and, in ways, it's a different one yet again. Recently grizzled, eponymous frontman Jon Bon Jovi remains flanked by the same rhythm section of Torres, Bryan and McDonald, but there's a Richie Sambora-shaped hole within their ranks, This House is Not for Sale being the first album not to feature the guitar virtuoso, who left in 2013. It's still business as usual, though and, having comfortably settled into a routine of heartland rock albums, it's a case of the more Bon Jovi change, the more they stay the same. Continue reading on Drowned In Sound…
DORO
Forever Warriors, Forever United
An artist of two halves, Ms Pesch has always been capable of big, dumb, fun anthems, while simultaneously showing a vulnerability through her extensive balladry, one that's somewhat at odds with her formidable Metal Queen persona. We get both sides of the coin on this new double album. 'Forever Warriors' is a partly incendiary, partly insipid celebration of heavy metal, one that's bursting with guest stars – a duet with Amon Amarth's Johan Hegg being particularly toe-curling. 'Forever United', meanwhile, is a more reflective look at life, inspired by the passing of Lemmy, but hampered by slow-burners that too often peter out before truly catching flame. A pissed festival crowd will lap up the likes of 'All For Metal' like overpriced, uncarbonated lager. On record, however, an overabundance of mid-tempo plods makes the 19-track duration feel like the worst kind of overkill.
RITES OF SPRING
Six Song Demo
In some circles, this is the sonic equivalent of finding the Holy Grail, for this isn't just the first demo of any band, but of one that simultaneously broke and shaped the mould for the punk and post-hardcore genres. While these six ditties would eventually form parts of their later releases, here we find skeletal versions of the Washington, D.C. boys' atonal tales of angst – the sound of them forging the line between aggression and fragility that would forever characterise such music. A window into the origins of a small band creating a big noise that remains an influence even today.
GERRY RAFFERTY
Baker Street
From Drowned In Sound's Greatest Scottish Songs feature, during the 2014 independence referendum

The song that revived the proverbial saxophone market, 'Baker Street' got thousands of people and Lisa Simpson picking up the instrument. Not bad considering it was initially only a placeholder for a vocal hook. Mysterious and evocative, this tale of loneliness in a crowd and a Scot's isolation in London – something apparently felt by half a nation nearly 40 years later – conjures up images of city lights, wanderlust, the fine line between ambition and reality, and that togetherness we feel in being alone. A sublime classic from the dearly departed Paisley Buddie.
GINGER WILDHEART
Albion

Only a musician as innovative, mercurial, uncompromising, stubborn and erratic as Ginger could suffer from Difficult Second Album Syndrome after countless records and a quarter of a century in the business.

To rate Albion as just another solo effort in his extensive curriculum vitae is only telling half of the story, if even that. The odyssey starts in 2010, following the dissolution of his band The Wildhearts – cult favourites and Nineties chart-botherers – when he found himself playing guitar for Hanoi Rocks' blond bombshell Michael Monroe. Despite successful tours and a warmly-received co-written album Sensory Overdrive, creative differences and managerial issues cast him into the musical wilderness alone. With no band, no direction and no means to provide for a family, the towel was close to hitting the ring. It seemed that wild hearts could be broken. Continue reading on Drowned In Sound…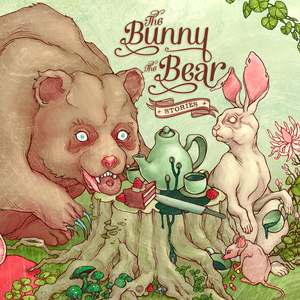 THE BUNNY THE BEAR
Stories

For the volume of MySpace generation bands blending electronica with hardcore, it's surprising how many fail to do it with any credible chutzpah. This is another one. There are quirky hooks that work well, but any enjoyment gained from them would probably be tantamount to satisfying the curiosity of putting two Siamese fighting fish in a pint glass together or using a sandpaper condom. At very best it's guilty pleasure material but, mainly, it's a nauseating exposure to the insidious movement trying to inflict rock 'n' roll with the hipsterish, UV-painted accessibility that spoils everything we hold dear.