2013
07.09
From Terrorizer magazine, October 2013.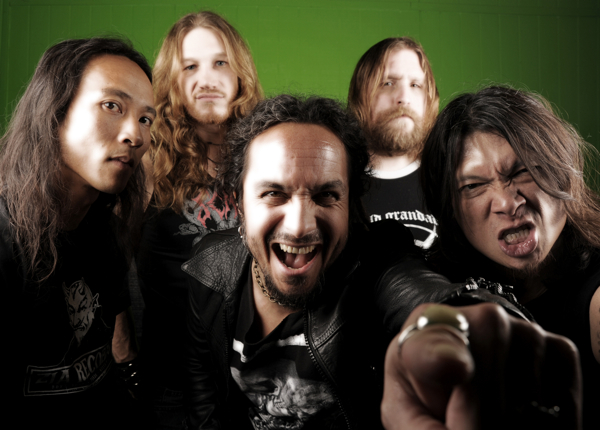 'It's amazing to be here!' bellows Mark Osegueda, while his Death Angel bandmates smile at the Bloodstock Open Air festival crowd before them. It's a sentiment several acts will repeat this weekend and at the rest of the summer's events but, for some, it will be rehearsed, disingenuous and, in places, untrue. As the words come from this ebullient frontman, however, it's hard not to take them seriously, even more so when he's already expressed such positivity to Terrorizer the night before. It's also clear that he means 'here' in more ways than one.
He walks into the hotel foyer, approaching us with a warm, welcoming smile, as oxymoronically enthusiastic as he is jetlagged. We sit, and he takes a sip of tea from a Death Angel flask, wishing it was the beer that his bandmates are currently imbibing at a local pub.
'Some of my fondest memories are from the United Kingdom.' he smiles when asked about his visit so far. 'The first gigs we ever heard about were the Monsters Of Rock events at Castle Donington. Our first show across seas was in London, and I still have the leather jacket I bought!'
He gives a hearty, infectious laugh.
While he wears his NWOBHM inspirations on his sleeve, he and Death Angel hold the distinction of being a part of a similarly influential scene: California's San Francisco Bay Area. Thirty years ago, its sun-soaked, coastal streets were a hotbed for the nascent thrash metal scene, spawning definitive names including Testament, Exodus and, most notably, Metallica. The five young cousins shared bills with the big guns – Mark talks of spending his sixteenth birthday opening for Slayer as though it's a common rite of passage for every teenager – while releasing three albums now considered cult classics.
'I feel extremely fortunate to this day to even have those memories.' he reflects, looking out at the grey Tamworth roads as though seeing San Francisco below us.
In 1990, following strenuous touring, a disadvantageous record deal that continually 'came back to haunt them', and a bus crash that left drummer Andy Galeon unable to perform, they dissolved.
Asked if the split gave them time to grow up that they hadn't had before, he exhales and pauses briefly, as though having never considered it.
'Some people in the band might dispute it, but yes, I think it was necessary.' he eventually offers. 'We didn't get to hang out with anyone except ourselves, and I think growing apart gave us all respect for each other and what we had.'
Following the disbandment, the singer, having lost interest in music, moved to New York as though to get as physically away from it as he felt mentally. The Bay Area camaraderie brought them back together a decade later, however, at a benefit show for Testament's Chuck Billy who had been diagnosed with cancer. Originally a one-off, the crowd reaction inspired them to write a new chapter, bestowing on them a chance to start again and work towards a new goal.
'We fell in love with playing with each other again.' he beams. 'Labels approached us and that's when we had to sit down and think. It was one thing to play the old songs to people who wanted to hear them, but to write new music under the Death Angel name had to be taken seriously. I was all for it, which was rare because the guys had wanted to reform a couple of times during the hiatus, and I flat out said it was never going to happen!'
That laugh again.
'The fans were the main reason. At the reunion, the place erupted for us. I remember looking around and realising that "this is what I've been missing."'
Since then, they've recorded four albums, the latest being this year's 'The Dream Calls For Blood'. It marks the second effort as the new line-up, with only Mark and guitarist Rob Cavestany remaining from the definitive era. Losing original members could break lesser bands but, for Death Angel, it has been a blessing in disguise.
'When we reunited, people had grown up, had kids, had mortgages, and the band wasn't generating the kind of money you need for that.' the singer reveals. 'Some members were married to women who had no idea what Death Angel was and who didn't sign up for it!
'Losing original members is a huge deal, but we tried to make it nothing more than a stutter step and tour even more to prove that we weren't going to let it sink us. I think we garnered a lot of respect with the original fans but, at the same time, we have this whole new generation of people who got turned onto us because of the constant shows, then picked up the last record [2010's 'Relentless Retribution'] before discovering our earlier stuff. Now, they're hungry for more.'
With personnel who are able and willing to dedicate as much time as needed to travelling, the band are living and writing on the road, using the pent-up frustrations of life on a bus to make the new release potently cathartic.
'We went back to Jason Suecof's Audio Hammer studios in Florida where we did the previous album. We loved the aggression of that record and the reaction to it, so we figured nothing was broken and we should strike while the iron was hot.
'The lyrics are dark and mean!' he guffaws, in stark contrast to his statement. 'You go through a lot on the road, it's not all glory. The album is about the hunger of doing what you love and how some people take music for granted in this age of American Idol. Sure, some of those people have talent, but they've never sweated for months playing clubs – it isn't organic. If you want the dream, you've got to bleed for it. That's the only way you can truly appreciate it.'
It's telling that they've now been together for longer than they were before the split. So is it safe to say that they're lifers?
He reclines again, his snigger turning to a sigh as though it's a stupid question. Perhaps, to a man so evidently secure in his role and confident in his ability, it is.
'I just feel that we're not going to let it go or give up.' he affirms. 'The things we've been through in our youth and what we've been through now have just made us more hungry.'
And he smiles and laughs once more, drains the last from his personalised vessel, and goes to find his friends and something stronger to drink.